Black Friday Leather Furniture Sales White Leather Sofa by Natuzzi Editions. All leather colors are on sale! After Thanksgiving Day Furniture Sale! Black Friday Leather Furniture Sale! Leather Sofa Sales Up to 50% Off Msrp. Black Friday Sale Happening now! Leather Sale Sofa The best leather sofa brands are on Sale ! Interior Concepts Furniture in South Philadelphia is having a Black Friday Sale with the lowest prices on leather furniture. Leather Furniture Sale! 20%to 50% Off mfg. list on all floor models in the store! There are over 50 brand new models to choose from. Call now for information, price and directions*** 215*468*6226 *** Please visit our website for other great deals and PHOTO.
http://store.interiorconceptsfurniture.com
Black Friday Sale Coupon. Additionally, coupon may be used on "Sale Leather sofas" ON Black Friday between 12:00pm&3:00pm for bigger savings! Stop in today! Black Friday Leather Furniture Sale! Easy parking, just out front or across the street in kiosk lot. And we are sooo easy to get to! 2 turns off of Broad Street! What are you waiting for?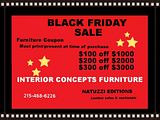 Natuzzi Editions Leather sofas & sectionals are included in this sale!!! SEE WEB SITE FOR SPECIAL PRICES :
http://store.interiorconceptsfurniture.com
CALL NOW 215-468-6226