Columbus Day Furniture Sales 2015 Coupon on Natuzzi leather sofa furniture. Please stop in and shop small business. You'll find unique styles and colors that the big brand stores do not carry. We work closer on price because we do not have the huge overhead More selection, lower prices. Over 45 years in the furniture business. Over 30 in just leather experience. So please stop in, many styles available for immediate delivery and we are ready to make a super deal! Columbus Day Furniture Sales 2015. Philadelphia's unique furniture showroom for the latest in Leather furniture. The unique styles, colors, shapes, & sizes,at the lowest prices too, can be found at Interior Concepts Furniture. Stop in to see the brand new styles of Natuzzi Editions leather sofas and sectionals on display. Best deals on leather furniture. Brand new dinettes have just arrived as well. Stunning contemporary designs. In Store Sale Coupon!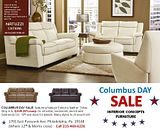 For the latest styles, best selection and best price on Natuzzi Editions leather sofa furniture, please see our ONLINE STORE:
Or stop in to see us in south Philadelphia. Easy to find & Park.
Stop in today! Call 215-468-6226